HOWO T5G Vacuum and Jetting Truck
Engine : MC07.34, 340HP Chassis model : ZZ1257N464GE1 Volume : 14+4 CBM
Function
(1) The upper body control box could adjust the engine speed directly.
(2) Driven from PTO. The vacuum pump and water pump could work at the same time or separately. The pressure of water pump is adjustable.
(3)The open door open and lock, tank lift up and down, vacuum direction changes could be controlled automatically.
(4)Water pipe roll in and out automatically by hyraulic control.
(5) Suction arm on top could swing, expan automatically.
(6) Vacuum pump 930cbm/h or 15,500L/M,Max vacuum 96%,Max pressure1bar
(7)Big volume dehumidifier made by falvanized steel plate, equipped with safty valve, liquidometer, for suction the air in the tank, and purifing the liquid in the tank.
(8)Filter with stainless steel barrel and vent valve.
(9)Model MS45 high pressure plunger pump, volume 212L/M, max pressure 190 bar.
(10)120m high pressure flexible metal tube ¾ inches and adaptor
(11)1/2 inches manual reel, 40m high pressure flexible metel tube ½ inches and adaptor.
---
Chasis
| | |
| --- | --- |
| Brand | SINOTRUK HOWO T5G |
| Chassis model | ZZ1257N464GE1 |
| Cab | |
| Wheel rim | 4500+1300 |
| GVW(KGS) | 25000 |
| Engine | MC07.34-50 |
| Clutch | HW13710 |
| Front axle: | H153 |
| Rear axle | HT457 |
| Tyre | 11.00R20 11 pcs including one spare |
| ABS | With |
| Emission standard | Euro Ⅴ |
---
Body Parameter
| | |
| --- | --- |
| Tank | 14㎡ |
| Plastic water tank | 4200L(5+5 side polyethylene light module water tank) |
| Water pump | MK55 290L@200bar,mechanical drive by Italy Moro |
| Vacuum Pump | PM3000 water cooling vacuum pump, 1700CBM/H, mechanic driving |
| Rear door | Hydraulic hooks, air control |
| Others | 6" 320° hydraulic rotate suction arm |
---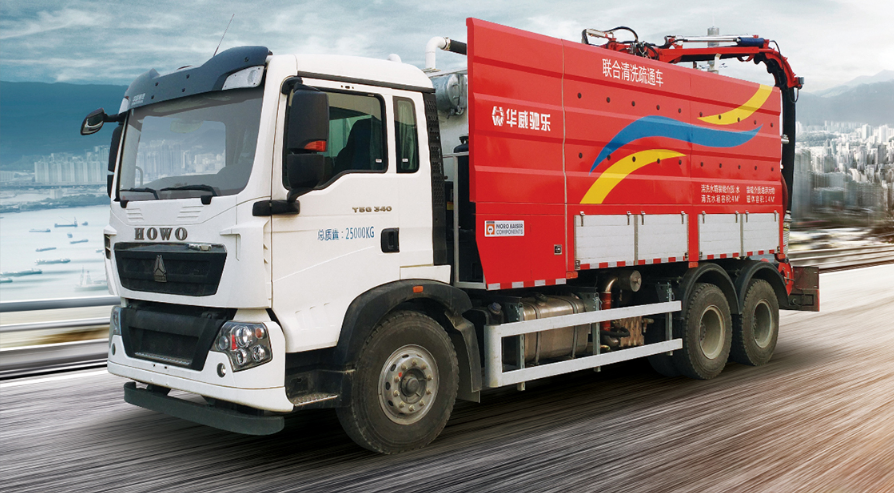 The advantages of vacuum and cleaning truck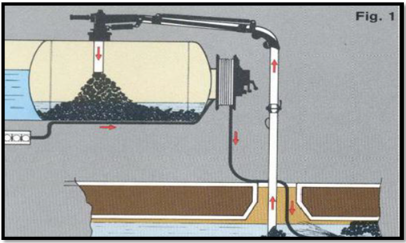 1、Environmental friendly:the noisy is much more lower than similar vehicles; less bad smell; optional waste water recycle system make the sewege water into clean water to save water. The water in mud decrease about 30% after processing, which makes the processing more easily.
2、More efficiency: high speed of suction, only takes 2 minutes to full fill the tank. The suction arm is flexible to rotate; The suction arm could reach 50m in horizontal distance, and 9m in vertical distance; multi-function on one vehicle in the need of less workers and vehicles
3、Intelligence :controlled by hydraulic system, electronic system, air system, with automatically protection devices; remote controlling rotate suction arm; humanized design to improve workers safety。
4、Better adaptation:better adaptation in different nature and working areas. It could suck the mud, small stone, brick; it also could evacuate the exhaust gas in some dangerous industry like petrochemical area or in rescue and relief work.
---
Configuration
1) Tank body
● Round shape vacuum tank body made by carbon steel Fe510D
● Round shape anti-vacuum end plate.
● Liquid meter with light
● Tank volume 14100L
● Anti-overflow valve with the pressure safety valve.
● 2 hydraulic cylinder to open the rear door
● Throttle valve to prevent sewage out of the tank when chassis move
● Rear door closed by hydraulic system.
● 4 inches manual valve
● 6 inches air control discharge valve
● Single hydraulic cylinder to prevent tank turn over.
● Safety device to prevent tank turn over.

---
Vacuum Devices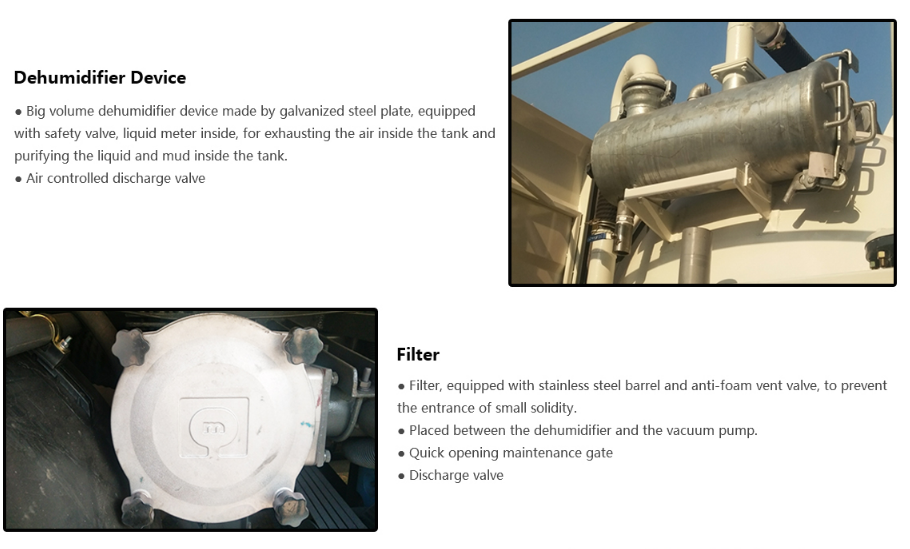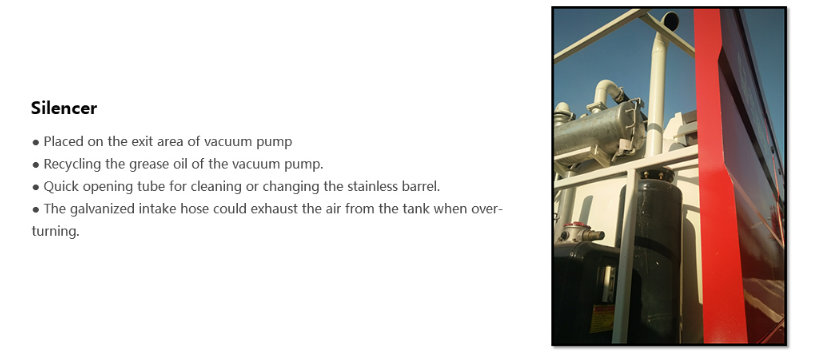 ---
Water Supply System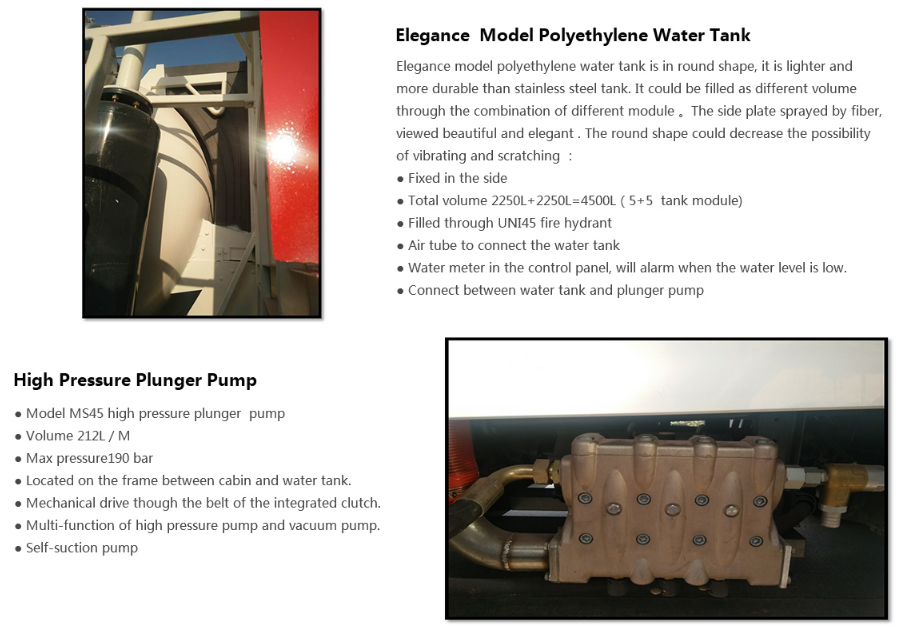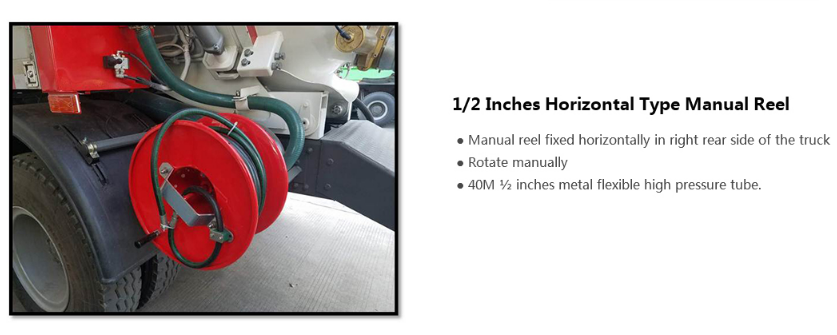 ---
Transmission system
● Fixed between the gear box and differential gear.
● Vacuum pump and high pressure pump drived by the hydraulic motor

---
Hydraulic System
●Hydraulic oil tank, with filter, liquid indicator, emergency valve on the hydraulic system.
---
Control Box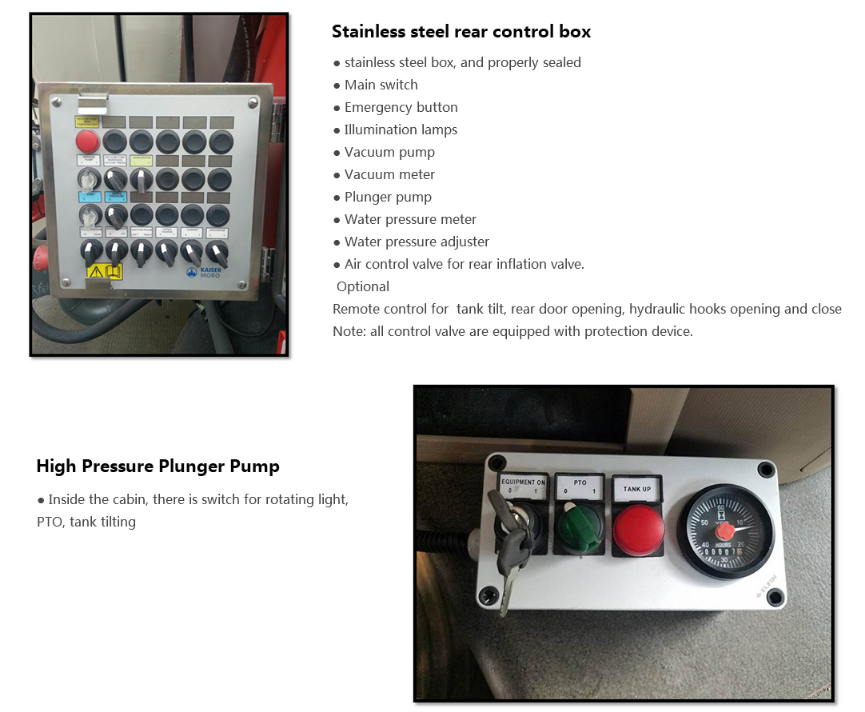 WeChat public
number QR code